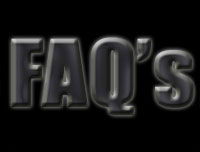 Q. What Are Some Advantages Of Using Star Brake Rotors?
A. Everyone loves how they look, but lets be honest, your brakes are there for a reason! The funny thing is the design is what makes them stop better. When the low part of the Star Rotor, passes between the pads, it has a pocket of cool air that helps cool the pads. They are actually self cleaning, and self cooling! What makes our design more unique is the "Directional-Slotted" front rotors. The slots channel fresh/cool air between your pads and the rotor, so no gaseous boundary forms, and the slots constantly keep the pad surface new, this helps reduce pad "glazing". Test show up to 30% more stopping power, that conventional designs. They don't look half bad either! :-)

Q. What Material Are Star Brake Rotors Made From?
A. Star Brake Rotors are made of laser cut, and parallel double disc ground 410 Stainless Steel. Our Front Full Floating Rotors have a center composed of aerospace 6061 Aluminum alloy (magnesium/silicon/titanium), with a T6 heat temper grade. Again thats all the technical stuff, what this means on the street/track is; Since they are laser cut, and parallel double disc ground, they have a stress free, perfectly flat surface, meaning a large contact patch from your pads to rotors. The higher the contact patch, the better the braking! The 410 Stainless steel, that they consist of has a melting point of just under 2800 degrees. It has good impact strength, and corrosion/scaling resistance up to 1200 degrees, so you can put them through the abuse. The 6061 Aluminum that makes up the center has a T6 temper grade, meaning its been heat treated, it also means the centers have a melting point of just under 1100 degrees!

Q. Where can I view or print an rotor application guide?
A. Our application guide can be found here: View/Print Star Rotors 2009 Application Guide

Q. Does Star Rotors have a patent for this design?
A. Currently produced under patent #7284643, we are also working on a double patent which has been submitted. (# 11/808439)

Q. Who Currently Uses Them?
A. Perhaps you have heard of: Tom Gates (who ran 247mph at the Texas Mile 10/2008), StreetFighterz Stunt Team, Dan Jackson, krazy kyle, Britney Marrow, Joey Beavers, Daniel Farris, RockStar Cycles or one of the top custom sportbike builders in the US, Greggs Customs, as they are featured on all of his new single sided swingarms!

Q. Do Star Rotors have a warranty?
A. All of our warranty information can be found here: Star Rotors Warranty Page, also our HID Kit Warranty page can be found here: HID Kit Warranty Page

Q. Does StarRotors.com offer sponsorship programs?
A. Yes, Sponsorship programs are available; Our Sponsorship page can be found here: StarRotors Sponsorship Page Availability is limited.

Q. Do I need to replace my pads when installing Star Brake Rotors?
A. It is not required, but highly recommended. If using old pads on a new rotor, your old pads will "cut" your old rotor lines into your new Star Brake Rotors. The new surface take a few times stopping to get broken in. WE RECOMMEND SINTERED HH-RATED CERAMIC/COPPER COMPOSITE PADS TO EXPLOIT THE FULLEST POTENTIAL OF YOUR NEW STAR ROTORS!

Q. Is shipping really free? How long does it usually take? How can I get it faster?
A. Yes, Priority Mail is free and generally takes 2-3 days. We ship out the same day payment is received (before 3 p.m. CT), tracking numbers are sent within 24 hours of processed orders. 95% of the rotors on our site, are INSTOCK, meaning if you would like to pay a few dollars more for expedited shipping, you can have them on your bike tomorrow!

Q. Are wholesale accounts available?
A. Yes, please contact us with your business license and tax resale Id number to become a retailer. Retailers will soon be featured on our site. We offer stocking programs, custom applications, and drop shipping is available.

Q. Is Paypal safe to use? What other payment options do you offer?
A. The security of your information, transactions, and money is the core of paypal's business and top priority at PayPal. PayPal automatically encrypts your confidential information in transit from your computer to PayPal's using the Secure Sockets Layer protocol (SSL) with an encryption key length of 128-bits (the highest level commercially available). Before you even register or log in to Paypal's site, their server checks that you're using an approved browser - one that uses SSL 3.0 or higher. Once your information reaches them, it resides on a server that is heavily guarded both physically and electronically. Their servers sit behind an electronic firewall and are not directly connected to the internet, so your private information is available only to authorized computers.
A. We can also accept a cashiers check or money order, but your item will not ship till funds clear our bank.

Q. Why choose Star Brake Rotors?
A. The real question should be, WHAT IS STOPPING YOU?… With all of the information above, you can begin to see why Star Rotors are "BRAKING THE COMPETITION"!

Q. Does StarRotors have a phone number so i can find out about my order status or gereral information?
A. Please check out our contact page here: Star Rotors Contact Page

Q. My question isn't listed on this page, what should I do?
A. Shoot us an email with your question.


---
We ship WORLDWIDE!